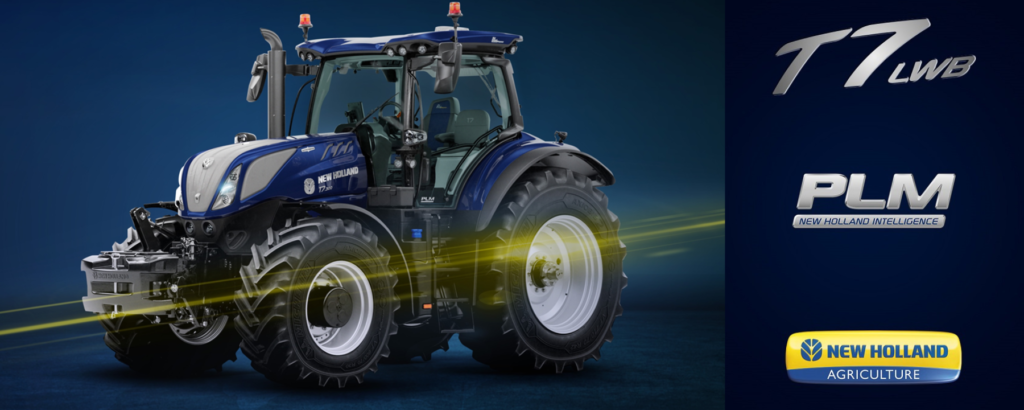 Five year telematics, more power without a larger frame or heavier chassis and best in class power to weight ratio of 28.3kg/hp (weight 8,490kg/300hp) you are guaranteed greater comfort, increased performance, improvements to uptime solutions and extra safety with the new T7.300 PLM Tractor.  Don't miss out on this one!
The power line up for the new LWB is the same as the current Stage V range (from T.230 – T7.270) with the addition of the new flagship T7.300 Auto Command offering rated power of 280hp and maximum boosted power of 300hp.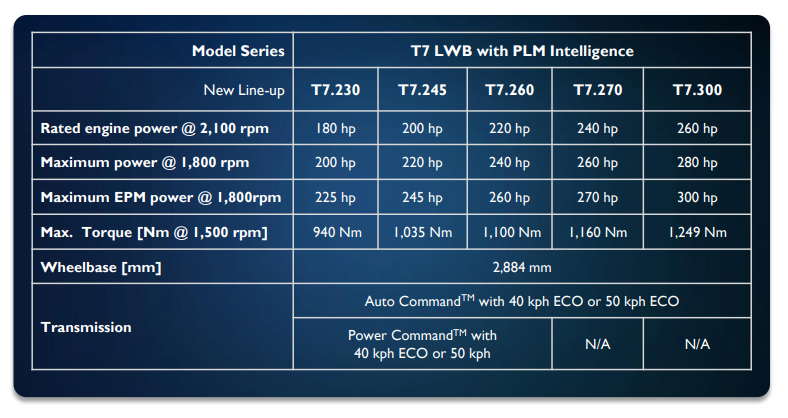 Enhancements:
Greater engine power, larger tyres, improved field performance, increased cab space and all with no increase in dimensions making it the most powerful and compact tractor in its power bracket
More innovation from an easy to use intelligent cab, fully customisable controls, SideWinder Ultra armrest and unique Centre-View display
Increased comfort and quieter operation with industry leading 66dBA noise level in the cab, improved climate control and uprated 360 degree LED lighting
Efficient data sharing with PLM Intelligence to maximise efficiency managed through the IntelliView™ 12 monitor
Improved uptime with Real time MyPLM® Connect telematics, a 24/7 Control Room and industry leading service intervals at 750 hours
Quick Glance on the Big Changes: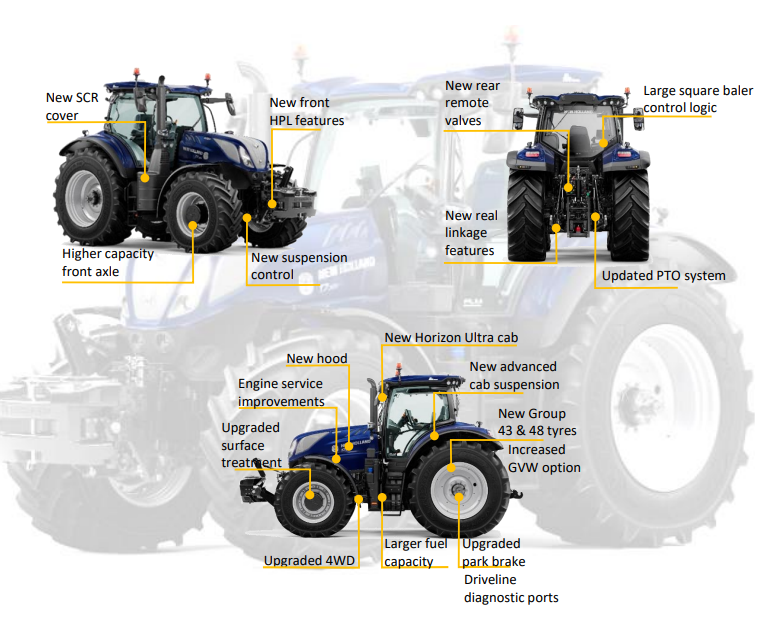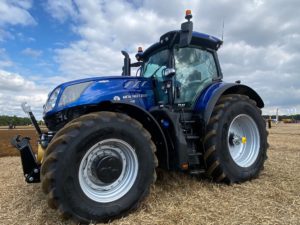 You can expect to see the T7.230 and T7.270 both with PLM Intelligence available to demonstrate with us later this year.  Meanwhile, remember we also have the New Holland T7 HD in stock now with PLM Intelligence too.  Packed with all the same benefits as the Long Wheelbase range (Horizon Ultra, extra storage/cool compartment, ergonomically located controls, SideWinder Ultra armrest, IntelliView and CentreView display, climate control, suspension seat, advanced connectivity to mobiles and more..) .
Next generation PLM Intelligence made its first appearance with the T7 HD tractors and is combined with the new ultra-precision PLM Cygnus receiver which provides exact positional information, compensating for terrain variations, and calculates accurate and reliable guidance lines within moments. The receiver also supports New Holland's satellite-based correction sources, in addition to the highly accurate RTK correction distributed through the brand's PLM RTK+ network.  Whether you choose the T7 HD or LWB, it all adds up to quite a package.  Book a demonstration to truly appreciate how advanced this new technology from New Holland is.
Experience it yourself by calling your local rep or get in touch here.